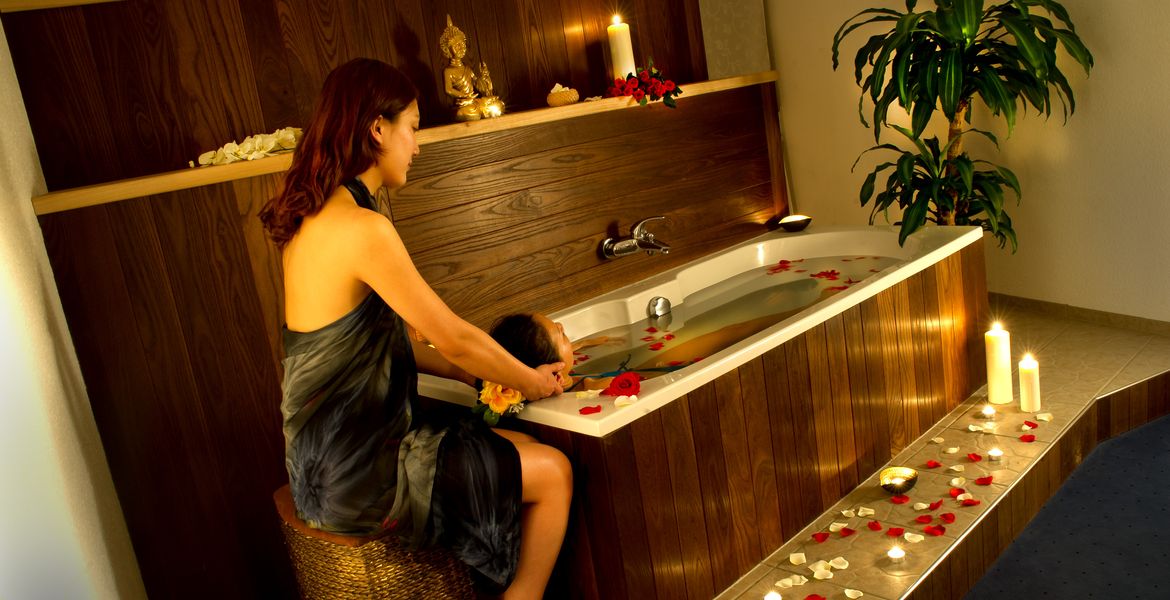 In a Tantric bath ritual, water is an opportunity to cleanse ourselves spiritually, to free ourselves from stress and anger. The whole day belongs to the past by actually "washing away" what has tensed us up on a physical and psychological level.
The warm water allows you to calm down, to regain your well-being, to feel safe and secure. It is in fact the most appropriate way to start a Tantra massage. In warm water, I wash you and massage your head (to clear your thoughts :-).
I take care of your feet, which have the hard duty to carry you, in a truest sense of the word, throughout your life. So I give them a treat. Afterwards, I'll dry you gently.
This "bath ritual" is a sign of appreciation, which I fully express to my guest. The Tantric Greeting "Namastè" means: I respect, honour and appreciate the "Divine" in you. The bathing ritual allows to set up a space for trust, a feeling of safety between us, you have the appropriate space to let go of all tension and prepare yourself to take in all the benefits of a Tantra massage as the tension is gradually wiped away.
During the bath ritual, you can let yourself relax and just be, afterwards you feel reborn and ready to lie down on my prewarmed massage island and let it all happen! Your only task is to: enjoy, enjoy, enjoy – with every breath!
Phone number for information:

0911 – 96 45 921


daily from 9:00 until 23.30

To make appointment:

0911 – 96 45 922


daily from 9:00 until 23.30

SMS & WhatsApp:

0160 – 149 37 28


daily from 9:00 until 23.30




(Please specify that your message is "for Amina" as this number is used for the whole team – thank you very much)

Mail:

info@massagen-nbg.de


You get an answer within 24 hours. Thank you for your understanding
Namasté